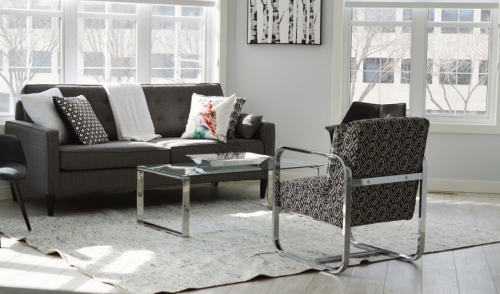 There's something to be said for living small and clutter-free, but most people want the benefits of a tiny house lifestyle without actually having to cram into 250 square feet. Realtor.com's Jennifer Geddes presents five tiny house design tips and tricks that can easily be applied to a regular single family build.
1. Carve out storage in surprising places
Take a tip from tiny houses, where storage space is at a premium, and make use of every square inch. "My husband cut into the stairs to make shelving for our shoes," says Julie Coraccio, a professional organizer at Reawaken Your Brilliance in Raleigh, NC. Coraccio's husband also made slender shelves under the kitchen cabinets to hold equipment like baking sheets and cooling racks. "It was wasted space, but now it serves a purpose."
2. Think built-ins rather than free-floating furniture
Every bit of space in a tiny house needs a job, but this kind of functionality can get lost in a bigger home. The fix: built-ins instead of free-floating furniture. Ditch cabinets for a credenza with a built-in banquette like the one below.
"This built-in banquette in an open-plan kitchen or great room creates a small, cozy spot for family meals and conversation," explains Carol Marcotte, an interior designer at Form & Function in Raleigh, NC. The shelves above the banquette serve as eye candy as well as storage.
Finish reading this article Click Here!
This article was originally posted on Remodeling
To view this article in its original form, Click Here!